Cover Story | Part 1

In the Close Race of the General Elections, Who Will Come out on Top?

Yoon Miro | miro@medicompr.co.kr | Issue 62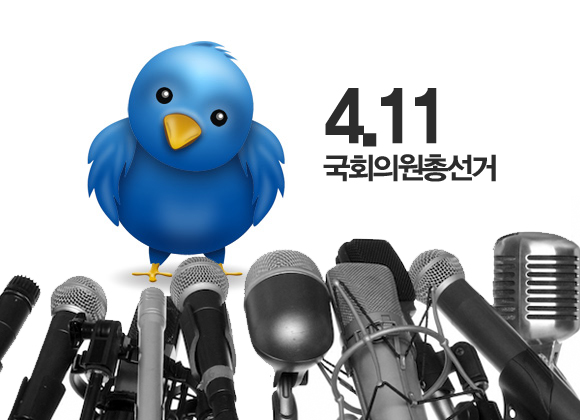 April 11 – National Assembly General Elections
Twitter sentiments are expected to exert such a huge influence over the results of this year's 19th general elections that some are even calling the race the "SNS elections." In preparation PR firm Medicom is putting the final touches on its "2012 Twitter Sentiments Panel," a social analytics sites that shows real-time public sentiment analysis data for each candidate. The site not only allows for the checking of public sentiment across the 246 districts in Korea, but also allows supporters to directly type in messages of support for their candidate of choice.

Through data provided by the "2012 Twitter Sentiments Panel" we took a look at main regions in which the race was tight between candidates. Using the site, it is possible to check how many times each candidate is mentioned in Twitter (for example, from a selected period of Feb. 28-Mach. 5) as well as the main issues connected with each candidate.

The "2012 Twitter Sentiments Panel" homepage is set to officially open to the public in the second week of March, allowing users to be able to find detailed information on Twitter sentiments related to their region's candidate, other candidate nominations, and much more.
Fierce competitors Jeong Dong-young vs. Jeon Hyun-hee:
Jeong Dong-young dominates Gangnam, Seoul
The top issue these days on Twitter is the close district of Gangnam. Democratic United Party Legislator Jeong Dong-young and Legislator Jeon Hyun-hee announced their candidacy as party representative at the same time, a gutsy move that caused Twitterians to sit up and take notice.

According to the site, in the past two weeks (Feb. 28-March 5) there were over 16,000 Twitter mentions of Jeong Dong-young and 10,000 mentions of Jeon Hyun-hee. In the main close districts, numbers showed 1.5 to 5 times more mentions of candidate Jeong than Jeon. The fact that both candidates were from the same party (the Democratic United Party) caused even more of a stir.

According to Twitter sentiments, Legislator Jeong Dong-young is set to come out on top. On Feb 23, Legislator Jeon Hyun-hee commented that she was "receiving pressure from Legislator Jeong Dong-young to give up the race in Gangnam." Many Twitterians, however, responded negatively to the remark saying, "You have to wonder if this statement is a media play to win the official nomination."

In fact, of the most frequently retweeted mentions of Jeon Hyun-hee in the past month, the top 5 RTs were laden with criticism. One Twitterian said on Feb 3, "Dear Legislator Jeon Hyun-hee, you should go to the anti-FTA demonstration at the Cheonggye Plaza right this minute. Go and take a look at what Legislator Jeong Dong-young has already accomplished" (200 RTs).
Seoul Jongno, Hong Sa-deok vs. Jeong Se-gyun:
Twitterians seethe with criticism of Jeong Se-gyun
With the fast-growing rise of interest in Jongno Seoul comes the rise of interest in candidates Legislature Hong Sa-deok of the Saenuri Party and Legislature Jeong Se-gyun of the Democratic United Party. Recently several public opinion polls reported a big difference between the two candidates, further inciting debate all across Twitter.

Recent Twitter mentions of Legislator Hong and Legislator Jeong showed number of 1,500 and 1,300 tweets respectively. Judging from the level of interest alone, it would seem that the candidates are neck and neck.

However, by taking a close look at Twitter social sentiments it's easy to see that Democratic United Party Legislature Jeong Se-gyun is experiencing a severe drop in the polls. Legislator Jeong is become the object of criticism, with many citing him as an obstruction to the progressive change of the Democratic United Party. Many are saying Jeong "changes his words," since he had sided with the conservative party in favor of the FTA between Korea and the USA when President Roh Moo-hyun was in office.
North Busan & East Seoul B, Huh Tae-yeol vs. Moon Sung-geun
Moon Sung-guen pulls ahead
Even before the nominations were announced, North Busan and East Seoul were topics of conversation, cited as regions where the gap between the candidates would be great. The Twitter analysis site shows an impression 4,700 mentions of Legislator Moon Sung-geun in the last week, with only 150 mentions of Legislator Huh Tae-yeol. Judging from this, it seems that so far candidate Moon is way in the lead.

Though many questioned if these tweets were related to criticisms of Legislator Moon Sung-geun in regions where the candidate is relatively unknown, results showed that tweets generally showed positive sentiments from the Busan region where Moon Jae-in announced his candidacy. When Chairman Moon Jae-in announced the place where he would be engaging in political activities alongside candidate Moon Sung-geun, the news reached an impressive 270 retweets.

Meanwhile, Twitter feed on Huh Tae-yeol was incredibly negative. The November before last Legislator Huh Tae-yeol tweeted that "We need to make a special 'sex free' and 'casino free' tourism district for the protection of the tourism industry," resulting in 54 negative posts. In the past, the Legislator had also proposed establishing a hospital through open investment and suggested special laws for savings banks. These statements were retweeted more than 50 times and brought a fresh wave of criticism from Twitter users all over the web.